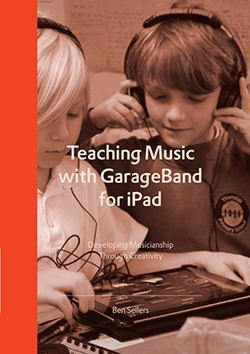 Developing Musicianship through Creativity
Our first textbook, 'Teaching Music with GarageBand for iPad', is available in both paperback and ebook formats.
Both paperback and ebook versions can be purchased below. Please note that the new edition of the Garageband app has some visual changes to the screenshots in the book, but does not alter the compositional process. More here
eBook      £12.99/$19.99

Paperback £19.99/$30.99  (postage costs for international orders are included in the book price)

In addition, we are offering a package for Music Hubs and Arts Organisations who wish to roll out our syllabus across their schools. The package includes 3 x hard copies of the book, unlimited distribution of the eBook within the organisation, and email support from a member of the Transformance team.
If you are purchasing on behalf of a school and would like to be invoiced for the book, or have a discount code you would like to use, please visit our friends at Mr Andrews Online.
Please Note: If you have chosen to purchase the eBook, you will receive a download link within 24 hours (not immediately). Thanks for your patience!